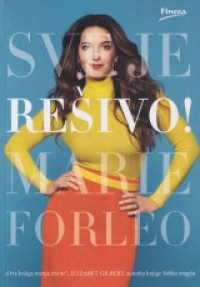 Text
Sve je rešivo
---
Sadržaj:
Rođena i odrasla u Nju Džersiju – Marie je devojka koja uz pomoć strasti, laptopa i sna, stvara društveno-svesno digitalno carstvo koje nadahnjuje milione širom sveta!

Opra ju je nazvala misaonim liderom sledeće generacije, a njena emisija MarieTV sa preko 52 miliona pregleda i podcast The Marie Forleo Podcast sa skoro 12 miliona download-ova idu u prilog tom nadimku i tituli koju nosi.

Marie je bila koač preduzetnicima, umetnicima i multi-strastvenim go-geterima iz svih slojeva života – kako da sanjaju veliko i podupiru ih svakodnevnim akcijama kako bi stvorili rezultate. Dok većina knjiga o samopomoći nudi brze ispravke, Sve je rešivo će podučiti vaš mozak da razmišlja kreativnije i pozitivnije, suočavajući se sa nedaćama. Po rečima Šeril Strejd, ova knjiga je "obavezno čitanje za svakoga ko se želi suočiti sa svojim strahovima, ispuniti svoje snove i pronaći bolji put napred".

Ako imate problema sa rešavanjem problema ili dostizanjem sna, niste to vi. Ono što je u pitanju jeste da još uvek niste instalirali jedno uverenje koje sve menja!

Bilo da želite da napuste posao koji vodi u ćorsokak ili da razbijete zavisnost, naučite da plešete, zacelite vezu ili pokrenete posao – Sve je rešivo će vam pokazati i kako!
---
Availability
| | | | |
| --- | --- | --- | --- |
| 4417 | HEiM0079 | Biblioteka 3. sprat (HEiM0079) | Available - Dostupno |
Detail Information
Series Title

-

Call Number

-

Publisher

Finesa, d.o.o. Beograd

:

Beograd

.,

2020

Collation

-

Language

Hrvatski

ISBN/ISSN

9788663030541

Classification

NONE

Content Type

-
| | |
| --- | --- |
| Media Type | - |
| Carrier Type | - |
| Edition | - |
| Subject(s) | - |
| Specific Detail Info | - |
| Statement of Responsibility | - |
Other version/related
No other version available